We are all aware of the chaos COVID-19 has caused in everyone's lives as we try to stay inside, wear masks and many of us are grateful that we have a freezer and cabinet full of food. Unfortunately, food insecurity is a chronic issue in Grayson County and has worsened dramatically due to COVID-19. Elk Creek pantry, Hands of Grace, has provided between 500 and 800 boxes of food per month over the last four months and their Feeding the Kids program has provided seven snack bags and drinks in a box for about 150 kids on a weekly basis. The little pantry in Mouth of Wilson also provides another much-needed source of food. However, there are still people going hungry in our county.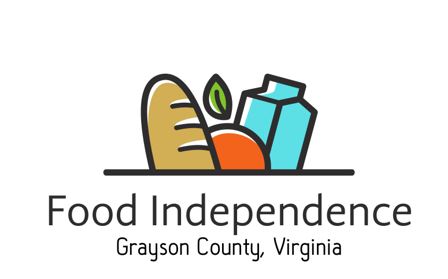 Four LandCare members (Tom Simpson, Anita Simpson, Ken Kreuzer, and Bev Fermor) got talking by Zoom, emails, and the occasional socially distant deck meetings and decided to develop a new food pantry in Independence called Food Independence. They approached the Independence Town Manager, Reid Walters and Police Chief, James Wagoner, who were extremely supportive and assisted them in finding space on the lower level of the building that houses the Mexican restaurant on Main Street (accessed by the alley behind the building), offer police support and find potential sources of funding. The Elk Creek pantry, Hands of Grace, has also been extremely helpful and willing to share information.
Anita Simpson presented the plan and proposed budget for Food Independence to the Grayson LandCare Board who voted to authorize Food Independence to operate as a program under LandCare's 501(c)(3) status and offer their support.
Food Independence will be a community effort and they are working hard to pull resources and support together for a first distribution planned for July 28th, 2021. They say it's both exciting and a little scary!  The Steering Committee (Tom, Anita, Bev and Ken) will be expanded to include community and organizational representatives. Periodic updates will be provided in the GLC Newsletter but feel free to send Food Independence an e-mail, check out their fledgling Facebook page and their "work in progress" location. They are working on possible grants to provide funding for needed equipment (freezers, refrigerators, shelves, etc.) and facility upgrades.
Ways you can help:
For the first three months, Food Independence must function on pledges, donations from other individuals, churches, and organizations before they can partner with Feeding America, Southwest Virginia, to obtain food at a very low cost.
Please makes checks payable to Food Independence.
Look out for a call for volunteers for specific tasks and donations (consider this your call, GLC members).
Most of all, they thank everyone who has already offered support to establish Food independence. This is an opportunity for the community to come together and help those who are food insecure, due to increased unemployment as a result of COVID-19, or other unforeseen misfortunes, both now and in the future.

Contact Information:

Address – Food Independence, PO Box 201, Independence VA 24348
Email – [email protected]
Facebook – Food Independence