The Virginia Beginning Farmer and Rancher Coalition (VBFRC) awards mini-grant funds to VA Tech and Grayson LandCare's Beginning Farmer and Rancher Mentor Project.
The goal of  BFRMP is to broaden coalition building and collaboration by developing a mentoring relationship to facilitate the exchange of knowledge and skills of experienced farmers and ranchers with beginning farmers and ranchers.
Develop a mentoring relationship for eight beginning farmers and ranchers.
Increase local food production through the combined knowledge gained by attending the Conference and Farmer to Farmer Network Tours.
Build collaboration between commercial conventional growers and beginning farmers and ranchers practicing sustainable and/or organic practices.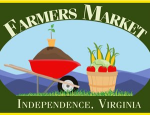 Grayson County is enjoying a spurt in local food production primarily due to the resurgence and popularity of the Independence Farmers Market. The demand at the market for local food far exceeds the supply. In a recent report to the USDA (IFM FMPP December 2014), the Independence Farmers Market cited a lack of local production farmers and innovative farming practices as its primary reasons for the supply/demand gap. While considered a farming community, the majority of agriculture products in Grayson County are either raised for decoration (Christmas trees and pumpkins) or in the case of livestock, are geared toward the stock market sales and not local slaughter for retail.

Farmers wishing to grow for the local market have scarce resources to assist them in their business venture. While there's much to learn from the experienced farmers in the area, few have the knowledge of local food production and marketing. Furthermore, due to its geographical remoteness, Grayson County farmers searching for education and knowledge must travel great distances to attend workshops and presentations on sustainable farming practices. Upon returning to their farms following an informed lecture or presentation, beginning farmers have no one to turn to help them apply what they just learned.
O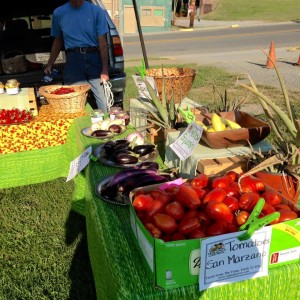 ur project will close this gap by not only bringing together experienced and beginning farmers and ranchers, but also facilitating a learning experience for both partners. Mentors will learn new techniques and have the prerequisite farming experience to apply them at both their farm and their mentees' farms. Mentees, typically more aware of the new techniques and innovation, will inspire and expose the mentor to these practices facilitating a learning experience on both sides. Our rationale is that armed with new innovation the mentor will add local food production to their whole farm plan and armed with the confidence of a long time grower backing them
up, beginning farmer and ranchers will expand their production.
Participant farmers in the project will be drawn from four distinct groups. On the mentor side, we need four farmers with both crop and animal production practices. Though they have been successful over the years, many of their practices and markets are more traditional than the local/sustainable practices and market opportunities that now dot the farming community landscape. On the mentee side, we will target eight beginning farmers from two groups, students enrolled in our local high school agriculture curriculum and veterans currently engaged in new ventures in crop and animal production.
Candidates will be chosen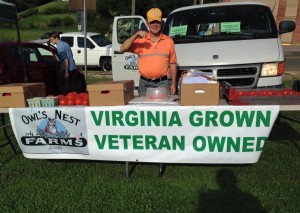 through a variety of methods, including an essay contest for the Ag students, participation in community activities centered on agriculture, and a demonstrated willingness to participate in a mentee and networking partnership for a minimum of 12 months.
Agriculture in Grayson County, Virginia is considered to be the main economic driver in the County. A long standing tradition of cattle raised for stock market, Christmas trees and pumpkins, and a dwindling tobacco trade are what make up the majority of the agriculture business and experience. The local food movement sweeping the country has changed some of that and Grayson County is enjoying a resurgence in food production grown for local markets, done in manner that is considered sustainable and gentler to the land
and natural resources so fragile in our region. Our project will leverage the experience that hundreds of years of traditional agriculture have brought to farmers with the resurgence of "new" ideas and attitudes towards sustainable local food production by joining these two concepts through a bond shared by a relationship of people practicing both the traditional and sustainable agriculture. It is the mentor/ mentee relationship that we feel will begin bringing the two concepts together in manner that enlightens and invigorates a new frontier in sustainable agriculture.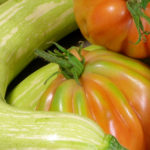 The innovation for this project was inspired by two conversations overheard an hour apart in diverse locations. While enjoying a hot cup of coffee at a local greasy spoon cafe, our observer overheard a mature commercial grower in our region, dressed in faded, but meticulously pressed cotton work khakis, remark, "I'd grow that 10 acres of broccoli organically if the bugs didn't eat it up so bad." Not an hour later while doing brisk business at his farmers market stand, our eavesdropping friend heard a nearby fellow vendor, dressed in holey jeans and Life is Good t-shirt proclaim, "I wish I knew how to grow this organic broccoli on a commercial scale, our beneficial insect plan has all but eliminated our bug problem!"
From these two conversations, one can easily surmise that the food production in our region is progressing in a parallel path, but has no crossover or information sharing networks. Our project's innovation is in the creation of bond between these two cultural growing differences through the mentor/mentee relationship. From their shared learning experiences and through their bond of commitment to each other, we feel that the VBFRC goals will progress by leveraging the knowledge and experience gained from a life's work with the progressive and ambitious nature of the beginner to form a network that is greater than the sum of its parts. By building a bridge between the two parallel food production ventures we hope to eliminate the misconceptions of commercial growing in our region and the mystique often associated with organic production through these relationship – furthering the coalition building goals of VBFRC.
The Virginia Beginning Farmer & Rancher Coalition Program is a state-wide and coalition-based Extension program housed in Virginia Tech's Department of Agricultural, Leadership, and Community Education. Funding was sponsored by the Beginning Farmer and Rancher Development Program (BFRDP) of the USDA National Institute of Food and Agriculture (NIFA) Award #2015-70017-22887. For more information, contact Kim Niewolny, Program Director and Extension Specialist, at niewolny@vt.edu or540-231-5784.
For more information on these programming opportunities, visit:
http://www.vabeginningfarmer.alce.vt.edu/2016MiniGrantPage.html