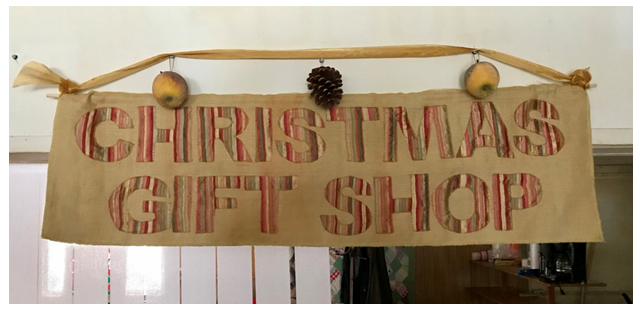 On Saturday, December 1st, the Free Market was a beehive of happy activity as we opened the Christmas Gift Shop.  All year long, we have saved items that were new or like-new and would make nice gifts. For this day only, we asked shoppers to get these items as gifts for other people, and we provided gift wrapping.  
Between 10 am and 4 pm, 113 people visited and either shopped or brought donated items.  Twenty-two people were waiting when we opened the door! All were greeted by a friendly volunteer and a table where coffee, tea and cocoa were available.  In addition to the usual shelves of random used items, they were directed to the Gift Shop (underneath a beautiful fabric sign made by Bev Fermor) and to the decorations area in the warehouse.
Seven volunteers helped on this special day, including one who brought a delicious lunch for workers.  We wrapped presents for mothers, grandmothers, teachers, spouses, friends, and neighbors, sharing the joy of giving gifts even when money is tight.  We will continue the Gift Shop until Christmas, adding items as they come in, and free hot drinks will also continue, maybe through the winter season.  
If you would like to donate items, help us with expenses, or sign up to volunteer, please contact Kathy Cole at info@graysonlandcare.org or 276-266-1303.