The Free Market—Full of Surprises!
We are temporarily closed again, because of low vaccination rates and high COVID infection rates in our area. Because the Free Market is NOT essential, we feel we shouldn't take any risk that might spread the virus.  However,  we continue receiving items and working on the never-ending job of sorting, cleaning, and finding new homes for unusual items!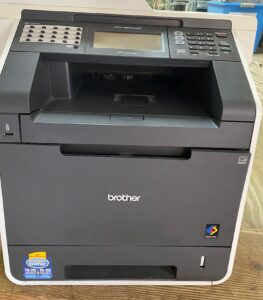 This color laser printer (and new toner cartridges) would be perfect for an office. All we know is that "it works, but not as good as it used to." We don't know what that means, but it might be worth a try if you need one. Message us through Facebook if you want to pick it up.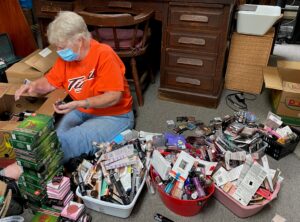 And we got in SIX cartons of assorted make-up and hair dye from Food Independence. When they asked for "personal care items," this is what they were given. Here our anonymous employee sorts it so we can begin putting it on the shelves when we open again.
We receive donations every Tuesday afternoon from 1-3 at the side door, and we are helping agency clients by appointment. We have all our fingers crossed that we can open again before the holidays and once again offer our Christmas Shop. Follow us on Facebook for updates, and we look forward to seeing you again soon!