Grayson LandCare is awarding mini-grants up to $500 for projects led by members that have significant interest and fit our mission. We have had 10 projects presented to the membership, and we have awarded three mini-grants so far this year.
The Stream Restoration Project purchased over 1,000 live stakes and showed landowners how to plant them along river and stream banks to prevent erosion.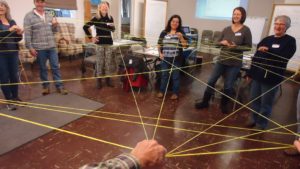 The Permaculture Design project will purchase mulch to begin their demonstration food forest at Church of the Good Shepherd.
And the Good Wool project will help a local sheep farmer purchase a Tunis ram with low-micron fleece to improve the fleece of his entire flock of Tunis sheep, a breed that was once widespread in this area and is rarely seen now.
If you are interested in beginning a project and se
eking partners and seed funding, contact info@graysonlandcare.org.