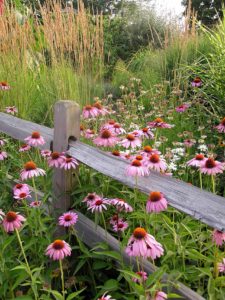 Grayson LandCare will host Snow Ferreniea in a presentation exploring how to turn your property into a wildlife friendly place on September 18th at 7:00 pm at the Grayson LandCare office, 108 Courthouse Drive, Independence.
Ferreniea grew up in SE England and was a student at the Royal Botanical Gardens, Kew. After graduating from Horticultural College she moved to the US to work at Longwood Gardens in PA where she developed their wildflower garden. From Longwood Snow took the position of Horticultural Director at Garden in the Woods, a 46-acre wildflower garden near Boston, owned and operated by the New England Wildflower Society. From there she went to Wayside Garden where her primary responsibility was to find new and unusual plants for introduction in American horticulture. This began a long career of working in this aspect of horticulture, which involved trailing and evaluating a vast array of plants and traveling throughout this country, Britain, and Europe to find them. She has lectured and taught throughout the US for organizations that include the Chicago, Brooklyn and New York Botanical Gardens, in additions to participating in garden symposiums at Williamsburg, Callaway Gardens and Cornell University. Her articles have appeared in Horticulture Magazine, Fine Gardening and other publications. Wildflowers in Your Garden is the book she wrote that evolved from her special passion for native plants.
Her presentation, "Adapting Your Property to a Wildlife Friendly Place" is drawn from how her gardening style has evolved to blend together the plants she loves most creating a place of enjoyment and safety for her, friends, pets and the wildlife she cherishes. It looks at the differences and similarities in natural and manmade places, the plants that thrive in these diverse habitats and how such areas can be developed and maintained in a home situation. This presentation just scratches the surface of the plethora of garden worthy plants that can be used to enhance an outside space while creating a more natural environmental haven.