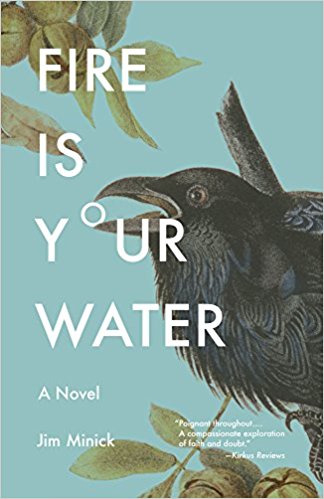 Grayson LandCare and Blue Ridge Discovery Center have partnered for a reading by local author Jim Minick from his new book: Fire is Your Water on November 20th, at the Grayson LandCare office (108 Courthouse Street) in Independence at 7:00 pm.  Minick will share a presentation on folk healing tradition, answer questions, and sign books.  There will be a limited number of his books available for sale that evening.
Jim Minick is the author of five books, including the novel Fire Is Your Water and The Blueberry Years: A Memoir of Farm and Family, winner of the SIBA Best Nonfiction Book of the Year Award. He's also written a collection of essays, Finding a Clear Path, two books of poetry, Her Secret Song and Burning Heaven, and he edited All There Is to Keep by Rita Riddle.
His honors include the Jean Ritchie Fellowship in Appalachian Writing, and the Fred Chappell Fellowship at University of North Carolina-Greensboro. Minick has also won awards from the Southern Independent Booksellers Association, Southern Environmental Law Center, The Virginia College Bookstore Association, Appalachian Writers Association, Appalachian Heritage, Now and Then Magazine, and Radford University.
Minick's work has appeared in many publications including Poets & Writers, Oxford American, Orion, Shenandoah, Encyclopedia of Appalachia, The Sun, Conversations with Wendell Berry, San Francisco Chronicle, Appalachian Journal, The Roanoke Times, and Still. Currently, he is Assistant Professor of English at Augusta University and Core Faculty at Converse College's low-residency MFA program. For more information on Jim Minick, visit www.jim-minick.com.