Michelle Lintecum, manager of the Free Market is putting out a "Call for Volunteers" and a big "thank you" to the ones currently at The Free Market. A lot of the volunteers are here during the summer and head to Florida in cooler weather. It's hard to think of cooler weather but soon it will be upon us with just a little over a month until official fall. With that in mind we are asking for your time, if you're interested in volunteering please contact the manager Michelle at the following email [email protected] or Kathy at [email protected]
If you visit the Free Market please extend a thank-you to our Volunteers. They deserve them! Volunteers gift our Free Market organization with their time and talents, which is an important, necessary, and generous contribution. They could spend their free time doing anything and yet they chose to help The Free Market. Many already volunteer for several other organizations. The pandemic has made volunteering more complicated. We continue to observe safety measures and the new clean air machine has been installed.
Thank you to the volunteers that help organize and keep the Free Market looking presentable. To the one's behind the scenes, a thank you for helping sort and organize all the donations we have received. I know it has been a lot of work, but you've done a wonderful job keeping the inflow and outflow running smoothly. You're such an important part of our organization and I hope you know that.
The Free Market is a staple in the community because we help many people. We have had expecting mothers that needed help, battered women, those who's house was lost to a disaster, folks moving with no funds, or people who have fallen on hard times and all have appreciated obtaining items at the Free Market. We get a thank you so often!
We also have our medical lending area where one can sign out most medical items and return for others to use.
If you have any nice or gently used items please bring them to the Free Market.
Even if you do not feel the need to interact with the public we have many things one can do. Come and see us at The Free Market.
Thank you!
Michelle
Free Market Manager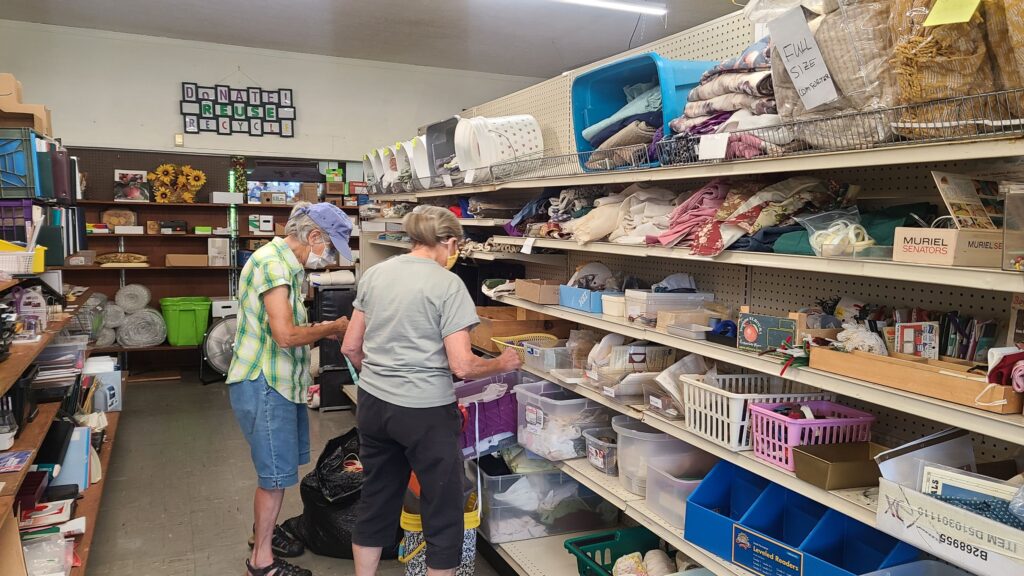 Free Market volunteers organizing the shelves