CORECTION: days are Thursday, Friday and Saturday 10-2!
As the Omicron COVID surge calms down in Grayson County, we are looking forward to opening the Free Market on April 1 and resuming our former schedule:   Thursday, Friday and Saturday from 10 am – 2 pm.  Since we have continued to receive donations, the shelves are stuffed with all kinds of useful things, and we look forward to shoppers giving them new homes.  We will continue to require masks (available for free) when we re-open, as most of our volunteers and many of our customers are in high-risk groups.
We have used the dock during this time to make things available, with great success—such as many beautifully framed pictures, and the auditorium chairs from the 1908 Courthouse.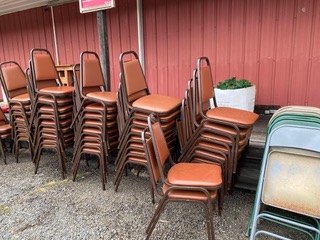 We also gave hundreds of tree tubes (to protect small trees) to people who were thrilled to have them. Now we are looking for anyone who might want dozens of sewing patterns, usable and categorized, before we give up on them and use the space for something else. Message us on Facebook if you know anyone who would want them: https://www.facebook.com/LandCareFreeMarket
We look forward to seeing everyone soon, and we will have Easter decorations available!