Wow!!! It's hard to believe Food Independence Food Pantry celebrates its third birthday in July after a successful 36th monthly food distribution in June. We were conceived in March 2020, approved as a program under Grayson LandCare that June and distributed our first food in July 2020. At the rate we are growing, we seem closer to 30 than 3! The last four months we averaged about 400 boxes per month to over 350 households where 800 plus of our friends, relatives and neighbors live. The graph below shows our growth during that period. We expected growth but not as much as we got, and now the end of Covid SNAP (food stamp) supplements seems to have created a "new normal".
In 2020, we were told to expect a surge during the fall holiday season with a big decline early in the year and gradual growth as fall approached. That happened in 2020 and 2021. There are "peaks" in demand in December of those years followed by declines; as predicted. We saw little decline in early 2023 and a Spring surge that continues. We are not alone in seeing this as most food pantries and the regional food banks, like Feeding SWVA, from which pantries source much of our food, are experiencing unprecedented growth. Food Independence has met the surge in demand and will continue to do so, but we would welcome fewer "peaks" and a gentler growth slope.
(Next month we will discuss the reasons beyond SNAP for the current situation and
Implications for the future for non-profit food assistance programs.)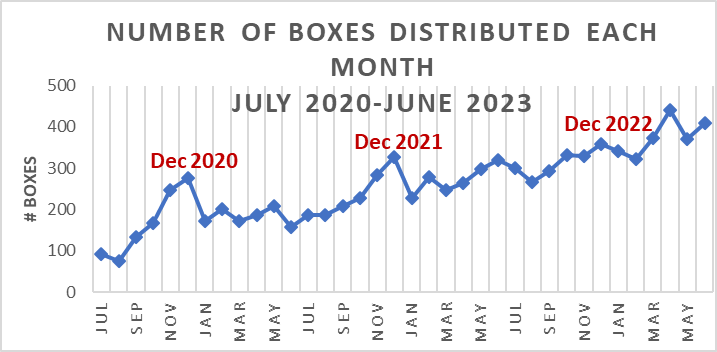 Thanks to the Twin County Community Foundation for their support.