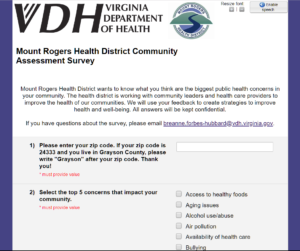 Mount Rogers Health District wants to know what you think are the biggest public health concerns in your community. The health district is working with community leaders and health care providers to improve the health of our communities. We will use your feedback to create strategies to improve health and well-being. All answers will be kept confidential.
Access the survey at: https://redcap.vdh.virginia.gov/redcap/surveys/?s=8FH3LMF3P3
If you have questions about the survey, please email breanne.forbes-hubbard@vdh.virginia.gov.