A friend once told me that every true southern should have a "signature dish" or two…
My go to appetizer is incredibly pretty and easy. Nasturtium blossoms stuffed with cream cheese and pepper jelly. Mix 1 cup pepper jelly with a block of cream cheese. Put in a pastry sleeve ( or a plastic bag with the tip removed) and pipe into the blossoms. TADA!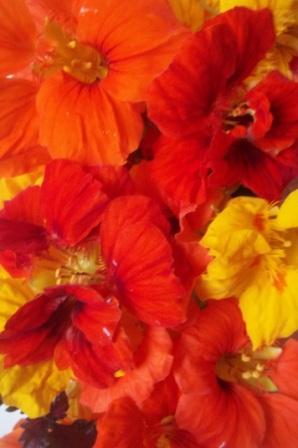 My other favorite is seed crackers. They are gluten free and easy to vary depending on your mood.
Seed Crackers
½ cup EACH raw chia, sunflower, pumpkin and sesame seeds.
1 cup water
1 garlic clove pureed
1 teaspoon each salt, pepper
½ to 1 teaspoon each of favorite herbs- I use a teaspoon paprika and ½ teaspoon curry powder, cumin, oregano or marjoram. This is a place to experiment.
Mix everything together in a bowl and stir. Let stand at least 10 minutes for the seeds to absorb the water. Longer is okay.
Roll very thinly between 2 pieces of parchment. Carefully peel off the top piece. Bake at 350 for 15 minutes.Check for doneness and cook up to another 15minutes. I usually do 2 sheets and rotate top to bottom and turn the sheets for more even cooking.
If you find they are not cooked enough after cooling, just throw them back in and cook some more. I let them get reasonably brown.