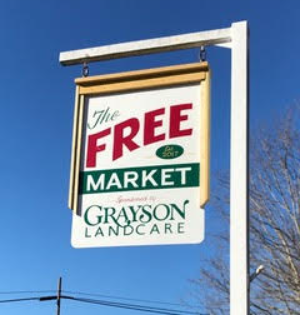 The Free Market is looking for the right person to manage the Free Market, a bricks-and-mortar shop on North Independence Avenue where donated items are offered free to anyone who can use them. After five months of shutdown, we are now open two afternoons a week with pandemic precautions in place.

The Manager will handle behind-the-scenes support as outlined in the Position Description below, supporting volunteers, fund-raising, communications, building maintenance, community support, and outreach to populations in need. This is a contract position paying $15 an hour for 12 hours a week, with flexibility in work hours and reporting to the Grayson LandCare Board. Applications may be mailed to P. O. Box 373, Independence or emailed to kathycole1@live.com.


Free Market Manager Duties and Requirements:


-Keep the volunteer calendar synchronized with the Google calendar online,
ensuring that all shifts are covered with at least two volunteers.

-Maintain a database of volunteers and their contact information and send out newsletters or e-mail updates at least monthly.

-Maintain a database of partner organizations and relevant agencies, with names and contact information.

-Meet with the Advisory Committee the fourth Tuesday of each month to discuss any issues, propose new ideas or plan special events.

-Post at least three times weekly on Instagram and Facebook; write a blog post for the Grayson LandCare newsletter every two months; write press releases for major events, and arrange for newspaper coverage.

-Ensure security of cash donations at the store; take them to the Grayson
LandCare executive assistant for deposit.

-Ensure that there is an adequate supply of daily data sheets, tax receipts and handouts at all times.

-Maintain the bulletin boards and up cycling board.
-Communicate building needs or problems to the Grayson LandCare President and work for resolution.

-Ensure that trash and recycling are taken to the County Public Works building, and that donated items that we cannot accept are taken to Allegheny Cares or Willing Partners. Make sure that donated items are being processed in a timely manner and make decisions when necessary.

-Meet regularly with Social Services staff and Mount Rogers services to ensure use of our Outreach area.

-Compile daily data sheets quarterly, using Excel.

-Report to the Grayson LandCare Board at least every six months on the Free Market's activities and data.

-Coordination of special events, such as Repair Days, Wellness Fairs, Christmas Market's Gift Shop, craft workshops, other innovative ideas

Qualifications:

Good communication skills, both oral and written
Ability to use Microsoft Excel, Facebook and Instagram.
Excellent interpersonal skills
Program management skills
Self-motivated
Commitment to recycling and creative use of cast-off items
Flexible schedule and reliable transportation
Ability to lift 30 pounds